JOY LINE® SERIES 1927 - 1934
350 LITHOGRAPHED ENGINE

Scarcity: R3 - Value: $375


Color: Red, gold, black, yellow and blue. The coloring on early Joy Line® pieces appears to be metallic. This is due to transparent ink being used on bright plated steel. The plating shows through giving some colors a metallic effect.

Wheels: JL type 1

Coupler: JLC2

Note: The 350 engine might have been designed as a floor toy and later sold with a circle of track, the 351 Koal Kar tender and one car. A 1929 catalog shows the engine, tender and boxcar. A 1930 Marx® catalog shows two sets. No. 359 and 360.
Cars were sold separately although this engine would not pull more than one at a time.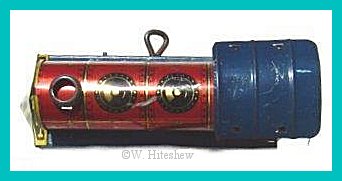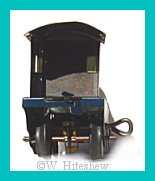 ---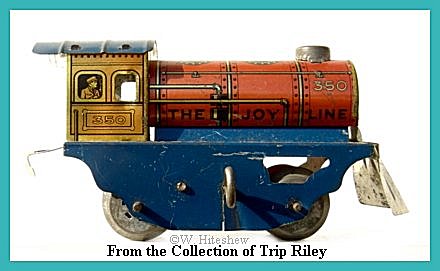 This 350 Engine is Lithographed as the one above but note the coloration. This does not appear to be sun fading. Note the difference between the boiler and cab colors.














Coil Spring Motor