In 1935 Marx released its first train set. The Union Pacific M10000 was released in conjunction with the real UP streamliner. Actually the Marx release preceeded the inagural run by the UP but I am sure they did not mind the additional publicity. The age was streamlined and Art Deco. Chrysler brought out the Airflow about the same time (unfortunately ahead of it's time) and in Germany the Volkswagon "Beetle" was being developed by Porshe.

This is the first Marx offering of the M10000. It is tan with almond (or dark ivory) sides. It employs a Joy Line forward only electric motor with a blued steel collector. These motors are distinctive because the gear on the geared wheel is larger than the wheel. It makes for some interesting action when run on O-27 track. The gear hits each crosstie causing the power car to wobble down the track. These early sets were sold with an aluminum coin depicting the UP M10000 made of the same aluminum that the real train was made from. These can often be found at coin shows.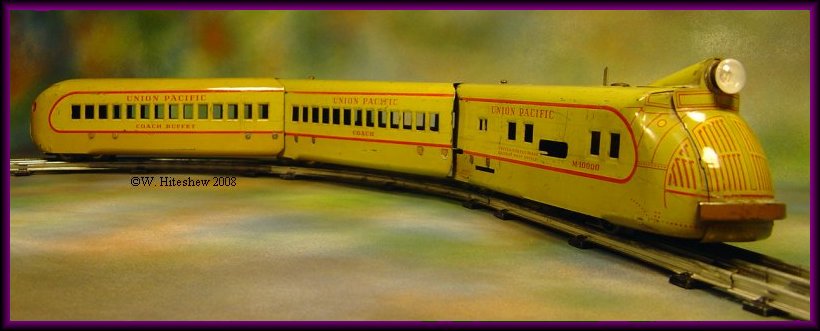 This version of the M10000 is similar to the one above and in the pictures it's hard to discern the difference between the two. However, this one is a very light olive color with yellow sides.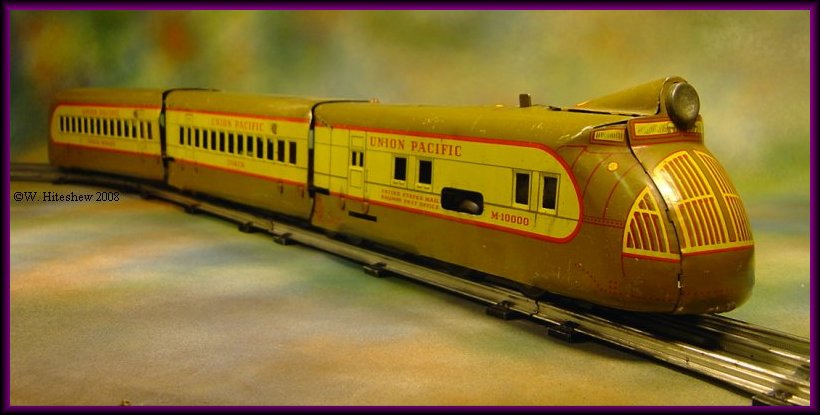 This variation is olive with yellow sides. Greenberg's Guide to Marx refers to a brown variation. I suspect they mean this one. I have never seen a brown M10000. This is olive, not brown!




This green and cream electric is my first M10000 acquisition. I remember how excited I was at finding this at a train show about 1989. I'm surprised the dealer did not notice my knees knocking! I paid $150 for it then.




This red and silver version is my least favorite. Again, Greenbergs Guide to Marx has got the color description wrong calling it Maroon. They don't know color. These sets are red, maybe dark red, but maroon they are not.

M10000 sets are found with many subtle differences. Extra windows in the coaches, 4 wheel or two wheel trucks, several differing bayonet couplings, lighted or not Observations, several different dummy and jeweled tail marker lights, several motor types including forward only, manual reversing, and electric reversing electrics or clockwork motors. One could make a collection of Marx m10000 streamliners. And to think that by 1937, two years after release, these had been virtually replaced by the M100005.